TM
TM One
Both companies will leverage each other's expertise, technical capabilities and global best practices to create a safer and more robust cyber ecosystem.
Telekom Malaysia Berhad (TM) via its enterprise and public sector business solutions arm, TM ONE, today sealed a Memorandum of Collaboration (MoC) with CyberSecurity Malaysia, the national cybersecurity specialist agency under the purview of the Ministry of Communications and Multimedia Malaysia (KKMM), to empower and strengthen the level of cybersecurity in Malaysia.
The MoC was signed in a virtual event by Dato' Ts. Dr. Haji Amirudin Abdul Wahab FASc, Chief Executive Officer, CyberSecurity Malaysia and Imri Mokhtar, Group Chief Executive Officer (GCEO), TM. The ceremony was witnessed by General Tan Sri Dato' Seri Panglima Mohd Azumi Mohamed (Retired) Chairman of the Board of Directors, CyberSecurity Malaysia and Tan Sri Dato' Seri Mohd Bakke Salleh, Chairman of TM.
The event was also graced by the presence of YB Dato' Saifuddin Abdullah, Minister of Communications and Multimedia Malaysia.
Commenting on key aspects of the memorandum, Tan Sri Dato' Seri Mohd Bakke Salleh noted: "We are honoured to collaborate with CyberSecurity Malaysia in this strategic initiative, which is aimed at elevating the nation's cybersecurity network and ecosystem and strengthening Malaysia's self-reliance in cyberspace. It is vital for the adoption of cybersecurity to be in tandem with the pace of transformation in order to secure our digital economy. Being a strategic partner, it is our pleasure to lend our expertise not just for this initiative but in Malaysia's mission to enhance its cybersecurity capabilities. This collaboration will enable both parties to enhance the ability of the public and business sectors to fend off cyberattacks that can come from all corners of the world and make cybersecurity a key thrust towards a sustainable digital economy, digital government and digital society. TM as the enabler of Digital Malaysia, is here to bridge the need for cybersecurity in order to successfully use cloud services; and to enable organisations to focus on their transformation journey, securely and comfortably."
Meanwhile, General Tan Sri Dato' Seri Panglima Mohd Azumi Mohamed (Retired) said, "As a cybersecurity specialist and technical agency, CyberSecurity Malaysia is strongly committed to ensure the e-Security aspects of the country and will continue to identify areas that could endanger national security and the well-being of the people. The main focus is to strengthen capacity through monitoring and providing effective response towards cyber threats and attacks to avoid major impact. With the signing of this strategic partnership, the principles and mechanisms of collaboration will enable both entities to merge and benefit from each other's technology and expertise, thus enabling both organisations to act as commercial strategic partners locally and internationally."
The initiative between both parties includes the sharing of global best practices, leveraging each other's technical capabilities and is set to deliver optimal cybersecurity technology solutions to local enterprises and public sectors. TM's role encompasses offering end-to-end comprehensive cybersecurity solutions to both Malaysia and the world. This is delivered principally through CYDEC, which is a portfolio of active cyber defense capabilities, managed security products and services, powered by TM's Global Security Operations Center (GSOC). CYDEC is indeed paving the way for greater digital trust and cyber resilience in the digital era. These managed security services ensure access to real-time, continuous, predictive cybersecurity, quickly and without complexity, for added assurance and is well-positioned to secure and protect our nation's strategic Critical Network & Information Infrastructure (CNII).
Another key aspect of this strategic collaboration is to explore the development of advanced security monitoring capabilities by tapping on TM ONE's extensive cloud infrastructure. Both parties will also endeavour to advance digital forensic capabilities and enhance incident response services. This will eventually feature cyber-outreach, a capability and capacity development programme, which will help to upscale the skillset and digital intelligence potential of Malaysia's public and private sector workforce.
This MoC also signals the continued urgency of addressing the relentless surge of cyber threats impacting both the public and business sectors as a fundamental step to enabling a sustainable, safe and successful digital society.
TM ONE CYDEC cybersecurity solution comprises four (4) key elements:
Managed Security Service Provider – an end-to-end security solution and management in real-time through predictive protection on private or public networks
Cybersecurity Subscription Service – a self-service Digital Risk Protection portal powered by a renowned global telecommunications player, Telefonica
Digital Identity Services – provide authority certificates and digital signatures that comply with Malaysia's regulatory and legal systems
Professional Services – offers holistic security consulting and assessment services on an organisation's cybersecurity strategy and landscape
For further information on TM ONE CYDEC cybersecurity solution, visit www.tmone.com.my/solutions/cybersecurity-services and for more info on CyberSecurity Malaysia, visit www.cybersecurity.my.
YOU MAY ALSO LIKE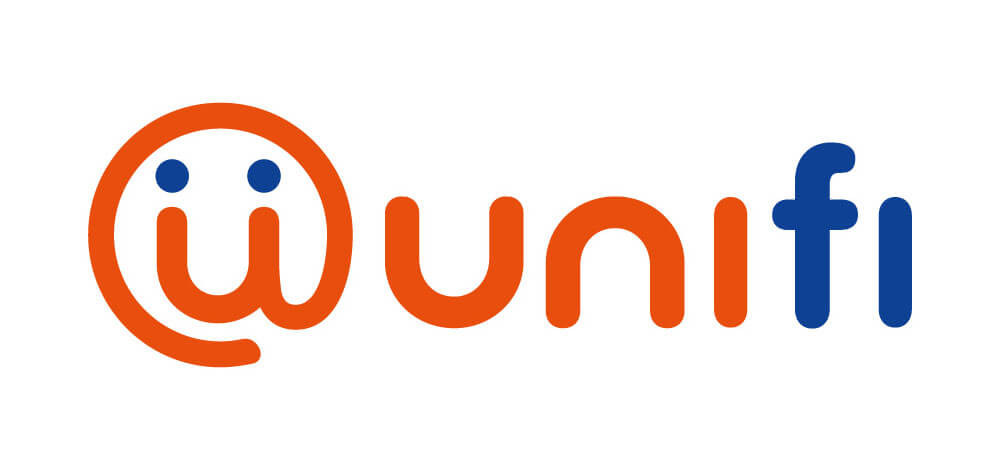 unifi encourages MSMEs to maximise Government Digitalisation Grant and accelerate their digitalisation journey with its suite of digital-first solutions
Government's announcement to increase digitalisation grant to RM200 million next year is a big step in the right direction ​unifi is set to accelerate MSMEs in their digitalisation plans with its complete range of digital-first solutions. This comes after the Government's announcement to raise the Digitalisation Grant for Malaysian micro, small and medium enterprises (MSMEs) to RM200 million next year. The increase is a big step in the right direction and is expected to have a significant impact on the push for digitalisation especially in a period when businesses are looking at technology to fast track their road to recovery and beyond. Along this road to recovery, unifi Business has positioned itself to become the preferred digitalisation enabler for MSMEs with its digital-first solutions while playing its part as a responsible corporate citizen in supporting the Government's push to digitalise MSMEs. Anand Vijayan, Chief Commercial Officer of Telekom Malaysia Berhad (TM) said MSMEs should fully utilise this opportunity to accelerate their digitalisation journey and unifi Business is here to support them. "The decision to raise the digitalisation grant to RM200 million is a big move in the right direction and we're ready to support the needs of MSMEs in Malaysia that want to accelerate their digitalisation journey." "As a government-appointed Technology Service Provider Partner (TSP) under the MSME Digitalisation Grant, we have the complete range of digitalisation solutions for MSMEs in every step of their digitalisation journey," said Anand during a virtual media briefing session held today. Since unifi launched its bespoke initiative that leverages on the Digitalisation Grant in August this year, the response from MSMEs have been overwhelming, further strengthening the brand's position as the digital partner of choice among the MSMEs. Currently, unifi serves a significant portion of the nation's MSME ecosystem with more than 375,000 MSMEs subscribed its solutions nationwide. Under this Grant, MSME entrepreneurs can subscribe to unifi Business Solution packages with savings of up to 50% across 12 months. In addition, unifi is offering prizes worth RM1.5 million to encourage MSME entrepreneurs to start digitising their businesses. Meanwhile, Mohamad Yusman Ammeran, unifi Head of SME Segment who was also present at the session said feedback from MSMEs showed that digitalisation served as a booster that helped these businesses recover and thrive. "The pandemic has transformed the business landscape in Malaysia and digitalisation is the way forward. We see a positive impact in the many businesses that we've supported during this very challenging period and I'm happy to see that many not only recover but have thrived thanks to our digitalisation solutions despite the challenges," said Mohamad Yusman. unifi has a host of solutions to cater to the different needs of individual MSMEs. These include Microsoft 365 which allows businesses to increase productivity with real-time solutions to connect and collaborate anytime, anywhere. This solution also offers access to files in real time across multiple devices while ensuring a high degree of data integrity. For new businesses venturing into the digital marketplace, unifi offers a comprehensive Digital Marketing Solution where they can enhance their online presence with increased visibility especially on social media. Another unifi Business innovation is the cari@unifi Premium Listing site, a solution that allows businesses to reach a wider customer base through online listings and articles on the hugely popular local e-commerce platform, cari@unifi. In addition, unifi also organises complimentary awareness and training programs for MSMEs to increase their digital proficiency. On top of that, unifi has business consultants at 83 MSMEs Corners nationwide to provide advice and guidance to business owners – the only technology company in the country to provide such services. To encourage sign-up for the Digital Grant, unifi is also offering exciting prizes to successful applicants under its "Sign Up & Drive Away" contest. Prizes include nine (9) four-wheel drive (4WD) vehicles during the contest period which will end 31 December 2021. Other interesting prizes include laptops, smartphones and tablets. For more information on unifi Business Solutions and SME Digitalisation grant offerings, please visit www.unifi.com.my/business/smegrant.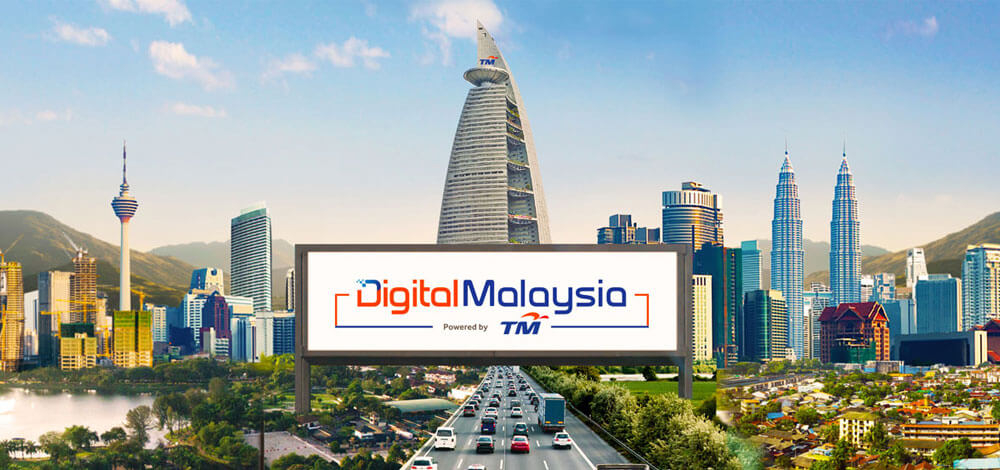 Employees of TM at Menara TM One, Damansara and Kepayan, Kota Kinabalu tested positive for Covid-19
Telekom Malaysia Berhad (TM) confirms two (2) positive cases of Covid-19 amongst its employees. One of the affected employees is based at Menara TM One in Damansara, Kuala Lumpur and the other is at its Kepayan office in Kota Kinabalu, Sabah. Both employees are currently under quarantine and receiving treatment at Government quarantine and medical facilities. TM management and staff are together praying for their speedy recovery. TM has taken proactive measures to mitigate further spread of the virus and keep our customers, staff and communities safe. At Menara TM One, all occupants were immediately evacuated and the office building closed for seven (7) days to facilitate thorough disinfection and sanitisation in accordance to the guidelines set by the Ministry of Health (MoH).  TM offices in Sabah, Kedah and other Red Zone areas had been closed much earlier as proactive precaution in correspondence to the increasing cases recently. Following these two new positive cases, detailed contact tracing is being carried out by the MoH, assisted by TM's COVID-19 Crisis Response Team (CRT), to identify and inform those whom had close contact with the affected employees. Identified close contacts are being contacted by MoH for further advice and action. In ensuring continued services to our customers, TM employees at the affected states and areas have reverted back to Work From Home (WFH) arrangement utilising digital channels and online productivity tools. Meanwhile, critical function employees (contact centre, field teams for service installation and restoration) shall continue working in compliance to Government and TM's added safety protocols and guidelines. TM would like to remind everyone at all times to keep safe social distance, hygiene and adhere to the Standard Operating Procedures (SOPs) as advised by the Government. TM has taken and will continue to take all necessary measures to ensure the health and safety of our customers, employees and community.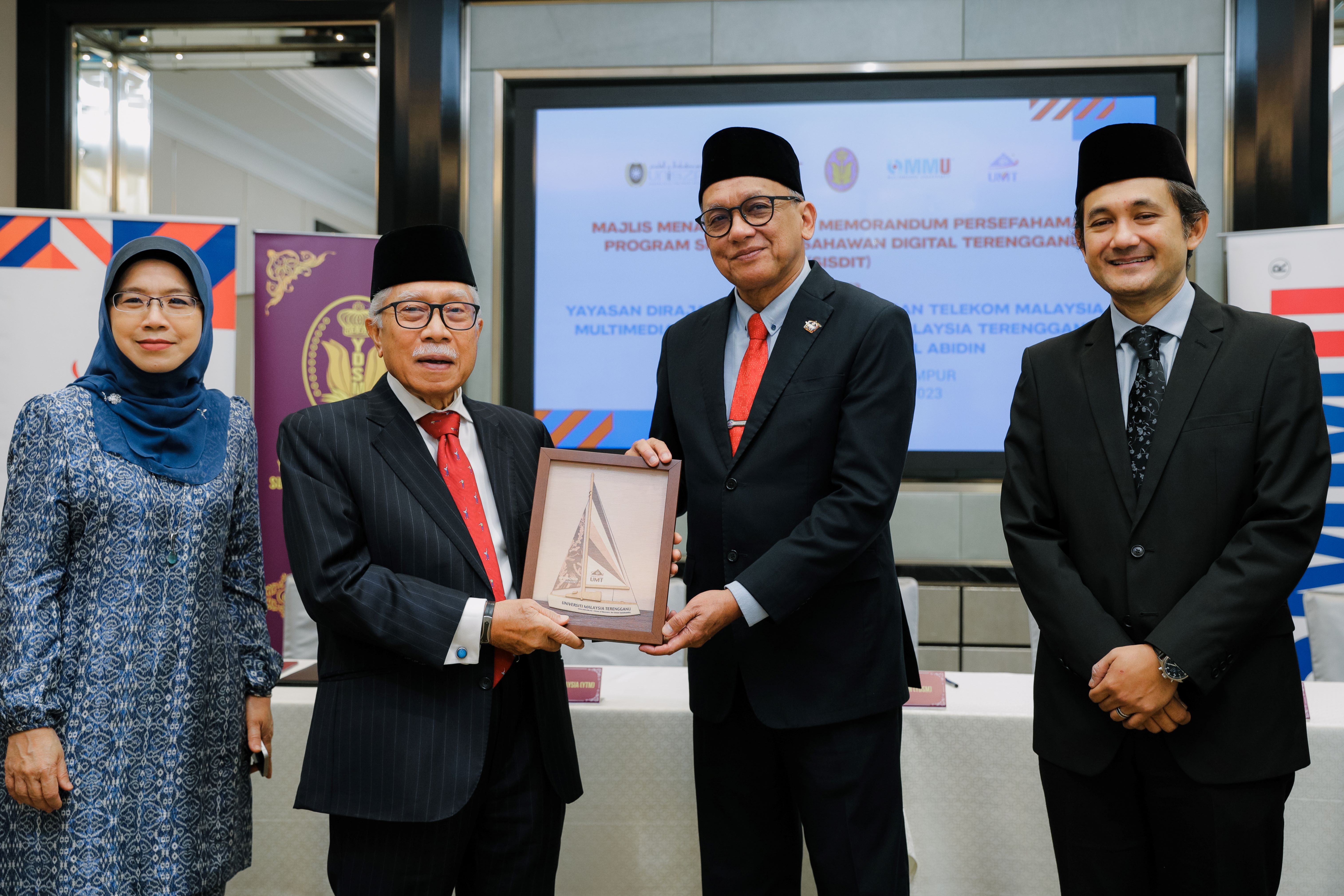 YAYASAN TM COLLABORATES WITH YAYASAN DIRAJA SULTAN MIZAN TO EMPOWER YOUTHS
KUALA LUMPUR, 22 September 2023 – Yayasan TM (YTM) and Yayasan Diraja Sultan Mizan (YDSM) signed a Memorandum of Understanding (MoU) to empower youth from the B40 socioeconomic group with vital digital entrepreneurship skills for them to thrive and compete in the digital market space. The programme costing approximately RM400,000 is shared between YTM, YDSM and Multimedia University (MMU). The collaboration also involved other parties namely Universiti Malaysia Terengganu (UMT) and Universiti Sultan Zainal Abidin (UniSZA). The signing of the MoU was graced by the esteemed presence of Kebawah Duli Yang Maha Mulia Al-Wathiqu Billah, Sultan Mizan Zainal Abidin. Dato' Zainal Abidin Putih, Chairman of YTM said, "Through their involvement in the Siswazah Usahawan Digital Terengganu (SISDIT) programme, the participants can acquire holistic entrepreneurship skills and knowledge while earning them the globally acknowledged digital qualification, International Computer Driving Licence (ICDL) Digital Marketing Certification to complete their skill sets. These would greatly benefit them as they enter the job market. YTM remains committed in its efforts to support the nation-building agenda of promoting socioeconomic development among the underserved communities." YTM was represented by Dato' Zainal Abidin, while signing on behalf of YDSM was its Board of Trustee member, Dato' Dr Che Ab Rahim Nik. Meanwhile, MMU was represented by Ir. Prof. Dr. Hairul Azhar Abdul Rashid, Vice President Market Exploration, Engagement and Touchpoints; UMT was represented by its Vice Chancellor, Professor Dato' Dr. Mazlan Abd Ghaffar while UniSZA was represented by its Vice Chancellor, Professor Dato' Dr. Fadzli Adam. Amar Huzaimi Md Deris, Deputy Chairman of YTM who is also the Group Chief Executive Officer of TM was also present to witness the ceremony. As part of the collaboration, YTM embarked on SISDIT, offering digital entrepreneurship training to 27 carefully selected students of UniSZA and UMT. This intensive 20-day training took place at MMU Cyberjaya campus, leveraging on the expertise of MMU Cynergy, a wholly owned subsidiary of MMU. The training modules included digital content development, design thinking, business ethics, e-commerce and business model canvas, to further unleash the potential of the participants in digital entrepreneurship. "Each partner in this collaboration will play significant roles in helping the participants succeed in their entrepreneurial ventures by connecting them to opportunities to foster their digital business's development. We hope their success through this programme will encourage their youth peers to take chances and unleash their full potential for a more sustainable living," Dato' Zainal Abidin concluded. To date, YTM's entrepreneurship-related endeavours, including SISDIT, have benefited over 300 entrepreneurs and created new businesses opportunities for marginalised communities, including B40, asnaf and women, nationwide. In line with YTM's aspiration as a purpose-driven social impact foundation, this continuous effort aims to nurture individual potential in contributing to the positive socioeconomic through digital and technology solutions for the nation.