Welcome to Telekom Malaysia Berhad's (TM) Integrated Annual Report (IAR) 2022!
Built on a strong foundation and heritage, TM paves its next era as a human-centred technology company. Our purpose and journey is to shape a Digital Malaysia that empowers communities, businesses and Government has come a long way, yet it is far from over; in fact, it has just begun.
We harness technology to create a better tomorrow for all. As Future Shapers, we connect our stakeholders to opportunities by enabling them with innovative solutions that help propel them closer to their next goals. Throughout this annual report, we feature imageries that reflect our commitment.
View More
Message From
Our Chairman
2022 has been a very good year for TM. We have achieved positive performance in multiple aspects of our business, with strong financial growth, infrastructure modernisation and expansion and notable progress in our journey.
With a clear understanding that the value of technology is only as good as the people it serves, we have dedicated ourselves to putting people at the centre of everything that we do.
Tan Sri Mohammed Azlan Hashim
Chairman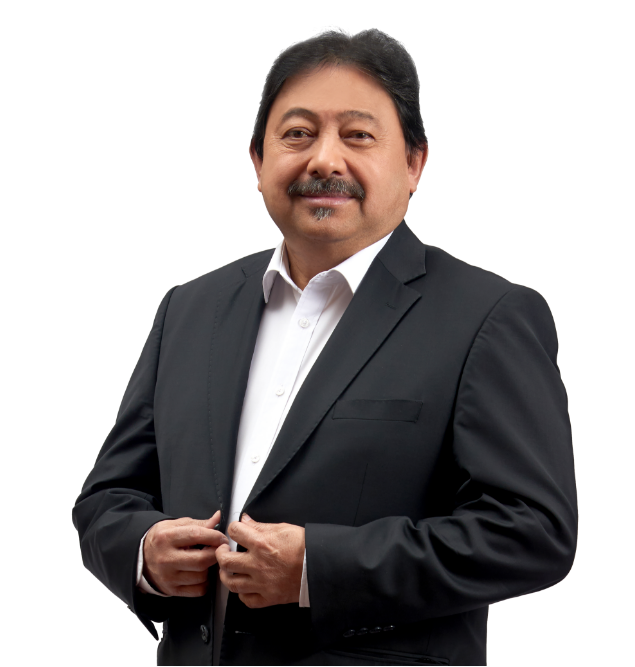 GROUP REVENUE
RM
12,118.1
million
GROUP PATAMI
RM
1,143.3
million
TOTAL DIVIDEND PAYOUT
RM
627.5
million
Message From GCEO
2022 was the second year of our transformation programme that started in 2021 and we are delighted with the momentous progress we've seen for the year.
We maintained a positive growth momentum in profitability for the year and accelerated our nation building efforts.
Managing Director /
Group Chief Executive Officer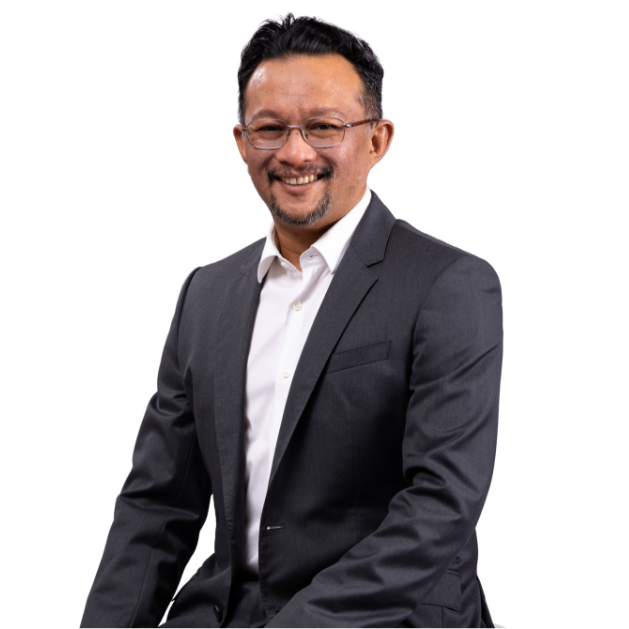 GCFO'S REVIEW
2022 has been a significant financial year for the Group.
We achieved our higher revised revenue guidance with strong profitability growth, driven by continuous customer growth for all business segments. Our performance is due in part to our ability in adapting to the changing business landscape and taking advantage of new opportunities.
Additionally, we have continued to invest in our operations, improving efficiency and reducing costs wherever possible.
Group Chief Financial Officer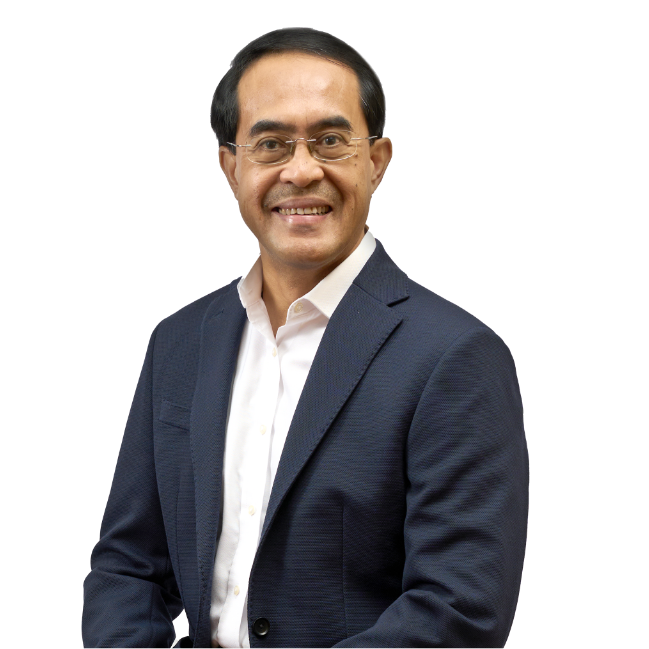 FINANCIAL
STRATEGY
Revenue Growth
Strengthen our core and continue to invest in growth opportunities
Cost Optimisation
Implement cost optimisation programmes across our operations to improve cost efficiency
Debt & Capital Management
Identify opportunities to improve our credit strength, liquidity and solvency
What We Do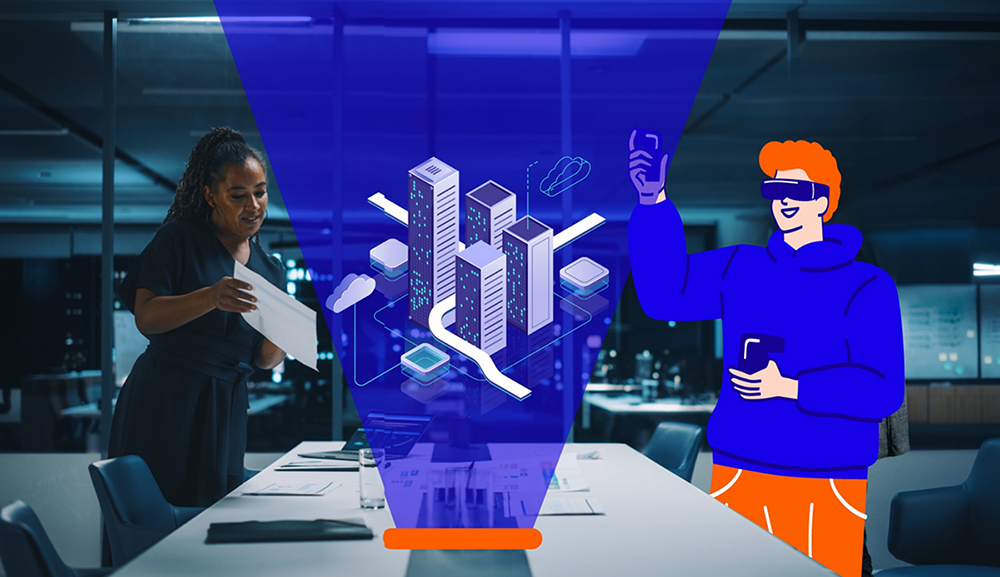 Our organisation is at a pivotal moment, as we gear up for the next phase of our evolution towards becoming a human-centred TechCo. We do this by shaping a Digital Malaysia through technology that empowers communities, businesses and Government.
View More
Our Key Focus 2023
Consumer & SMEs (B2C)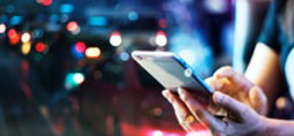 Content acceleration and monetisation
Enterprises & Public Sector (B2B)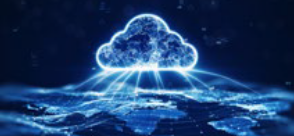 Global (C2C)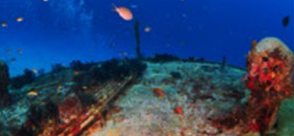 Sustainability Pillars
TM's Sustainability Vision:
To Make Life Easier, Towards a Sustainable
Tomorrow
BUILDING A DIGITAL MALAYSIA
Nation Building:
Expand our network and bridge the connectivity divide to catalyse Malaysia's economic, social and environmental progress
PROTECTING THE PLANET
Environmental Footprint:
Progressively manage our impact on the environment through resource optimisation and reduction in operational carbon emissions
PUTTING PEOPLE FIRST
Responsible Supply Chain:
Source responsibly to manage the impact of our value chain; Respect labour standards; Grow and empower domestic suppliers
STRENGTHENING OUR INTEGRITY
Uncompromising Integrity:
Zero-tolerance for unethical business conduct and corruption
Stakeholder
Priorities
People remain at the core of our value creation story. By closely listening to them, each decision we make is shaped by how we can improve the lives of our stakeholders and society today and into the future.
View More
Employees
WHY THEY ARE IMPORTANT
We rely on the skills and knowledge of Warga TM to drive our aspirations forward. Their hard work and dedication have made our digital and nation building objectives possible. At the same time, we are responsible for providing employees with livelihoods and fulfilling career paths.
Customers
WHY THEY ARE IMPORTANT
The support of our customers is critical to our business sustainability. Their trust in our products and services directly contributes to our long-term performance and enables us to achieve our nation building aspirations. At the same time, we empower our customers with essential services to thrive in a Digital Malaysia.
Shareholders & Investment Communities
WHY THEY ARE IMPORTANT
Our financial strength is entrusted by our shareholders and investors, who provide the Group with continued access to financial capital to achieve our nation building aspirations. In return, we are able to generate optimum financial returns for them.
Government & Regulators
WHY THEY ARE IMPORTANT
As a GLC, we need to maintain a close working relationship with the Government and Regulators, based on transparency and trust as the foundation of collaboration. We support their programmes and initiatives that propel the country forward, as well as secure commercial objectives that benefit both our business and the nation.
Suppliers
WHY THEY ARE IMPORTANT
Our operational resilience, sustainability and growth depend on the products and services delivered by our network of suppliers. At the same time, we empower businesses across our value chain with financial and non-financial contributions that promote their growth and success.
Business Partners
WHY THEY ARE IMPORTANT
We leverage the technology and resources of our business partners to complement our products and solutions offered to our customers, while they look to TM to deliver our services and equipment on time and at optimum costs.
Media
WHY THEY ARE IMPORTANT
The media is an information bridge between TM and its various stakeholders, including the general public. It is important to maintain good media relations to shape a positive reputation that aligns with our purpose and gain the support of our other stakeholders.
Communities
WHY THEY ARE IMPORTANT
Communities and provide invaluable support to our strategic and nation building aspirations. By fostering strong relationships with local communities, we create trust and confidence in our ability to enable and improve socio-economy standards that benefit everyone.
Unions
WHY THEY ARE IMPORTANT
Unions help improve communication and promote a more engaged workforce. Unions also help address and resolve workplace conflicts before they escalate, thus improving industrial harmony.
Material
Matters
In 2022, we revisited our materiality determination process to understand the concerns and insights of our stakeholders, to develop our strategies and future focus areas. This process is conducted every three (3) years to ensure our material matters are timely and relevant.
View More
MATERIALITY PROCESS:
Stakeholder Prioritisation
Identify and establish weightage to various stakeholders groups. This determines their level of impact on our business and strategic objectives.
External Engagements
The stakeholders engaged in 2022 include Customers, Employees, Suppliers, Regulators, Investors & Shareholders, and Community Members.
Two (2) types of feedback were collected during the external engagements:

1. Quantitative Feedback :

a ranking survey was shared to prioritise the material matters

2. Qualitative Feedback :

in-depth focus group discussions or interviews were conducted to capture more insight so that we can develop specific programmes and policies
Internal Engagements
Compile and analyse data from internal stakeholder engagement, such as customer complaints and employee surveys. This allows us to compare the external engagement findings with internal feedback for more robust results.
Validation & Approval
Present the final findings to the Board Risk Committee (BRC) and GCEO, with final approval from the Board of Directors
Discussion & Deliberation
Share the preliminary findings to the Management team, who then ranked the topics based on their importance to TM's business. The ranking by stakeholders and TM Management are then juxtaposed to arrive at the final material matters and materiality matrix.
Market
Trends
Our ability to deliver value and enable a Digital Malaysia is influenced by external factors, such as emerging technologies, market trends, economic conditions and new regulatory policies. Therefore, we actively monitor this dynamic landscape and stay ahead of any developments.
View More
Risks &
Mitigation
As we progress toward becoming a human-centred TechCo, we will continue to face various challenges in our journey. By using the right measures within our ERM Framework to mitigate these risks, we can discover new opportunities to unlock greater value for our business and stakeholders.
View More
OUR CAPITALS
DELIVER CUSTOMER OUTCOMES
THROUGH BUSINESS ACTIVITIES THAT CREATE
VALUE FOR OUR STAKEHOLDERS
OUR BUSINESS
OUR PURPOSE
OUR CUSTOMERS
OUR PEOPLE: WARGA TM
STAKEHOLDERS
Shareholders & Investment
Government & Regulator
MANUFACTURED
Shareholders & Investment
Customers
NATURAL
Shareholders & Investment
Communities
Media
SOCIAL & RELATIONSHIP
Suppliers
Communities
Media
INTELLECTUAL
Shareholders & Investment
Government & Regulator
Customers
HUMAN
Employees
Our
Capitals
We adopt a comprehensive approach to creating sustainable value for our stakeholders. We utilise six (6) types of capitals, each interrelated and with a complex interplay between them. As part of our sustainability approach, we understand that sometimes we need to make short-term financial trade-offs to achieve meaningful, long-term gains. This guides our strategic decisions as we strive to create sustainable value that benefits all our stakeholders.
View More
Human Capital
Our dedicated and skilled Warga TM acts as our execution engine. We invest in our employees so they can drive our strategic purpose forward.
FINANCIAL CAPITAL
Our income and earnings are used to operate and grow the business. We channelled our financial funds to pay relevant stakeholders, finance other types of capitals and propel our Digital Malaysia aspirations.
INTELLECTUAL CAPITAL
We have remained at the forefront of every technological advancement in the country. We embrace new technologies and digital solutions that strengthen our value proposition and competitive edge.
NATURAL CAPITAL
Our operations rely on a range of resources, including energy, water, radio spectrum and other natural resources. As we progress on our sustainability journey, we strive to continuously reduce the impact of our activities on the environment.
SOCIAL & RELATIONSHIP CAPITAL
Our strong and meaningful stakeholder relationships allow us to meet our nation building agenda. We take pride in creating bonds that build a resilient and thriving society
MANUFACTURED CAPITAL
Our vast infrastructure network, data centres and base stations are absolutely essential in connecting Malaysians nationwide. We also have retail outlets, office buildings and other physical assets that play important roles in our growth and operations.
Value
Creation
Strategy
As the Future Shapers of a Digital Malaysia, we have a mission of humanising technology and making it accessible to all Malaysians in a sustainable manner.
View More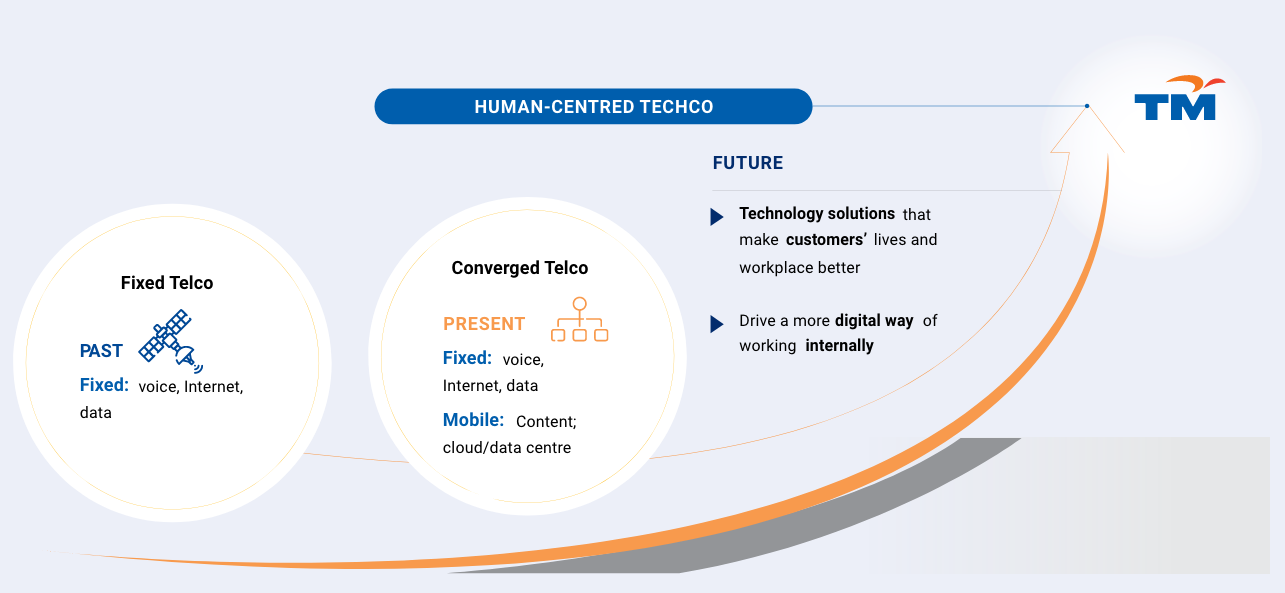 Downloads
Select one or multiple chapters and then click on DOWNLOAD NOW to proceed.